✔️ Barack Thermal Hotel Tiszakécske ****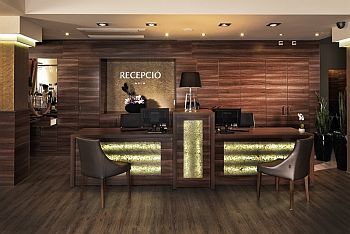 Barack Thermal Hotel Tiszakécske **** - Affordable Spa Thermal Hotel Tiszakecske, Hungary

Dear guest, please note that hotel cannot take reservations on our website. We apologize for the inconvience.
Alternative wellness and spa hotels in close distance:
Aqua Spa Wellness Hotel Cserkeszőlő **** Aqua-lux Wellness Hotel Cserkeszőlő ***
Barack Thermal Hotel & Spa is situted in a quiet, small riverside town, in Tiszakecske, in the heart of Southern Plain, only 100 meter far from the Tisza river.
The thermal bath of Tiszakecske can be easily reached from the hotel through a passageway.
Beside the wellness services, Barack Thermal Hotel and the holiday resort also offer medical and spa services. One of the most important goals of the hotel is to promote a healthy livestyle.

Hotel Barack in Tiszakécske awaits its guests with 50 well equipped rooms.
All of rooms are air conditioned and have WiFi Internet access. The standard equipment of the rooms: hairdryer, minibar, LCD TV, radio, telephone, safe. We also offer suites, rooms for families and disabled guests.

Standard bouble rooms have 2 single beds or one bouble bed, bathroom with a shower and a balcony. Extra bed is not available in these rooms.

The standard plus double rooms have a double bed, a sofa that can be pulled out, a bathroom with bathtub and a balcony. This room type can accommodate max. 3 adults or 2 adults and a child under 12 years.

The family rooms have a separated bedroom, a bathroom with bathtub and a balcony. The family rooms are suitable for max. 4 adults or for 2 adults with 2 or 3 children under the age of 12 years.

The suites all include a separate bedroom, a living room and a terrace. Beside the standard equipment of the rooms, suites also include a Lavazza coffee machine.
In the "Bergeron" suite we offer an infra sauna, a bathtub with massage facilities and light therapy and a jacuzzi and sunbeds on the terrace.
The "Bíbor" suites include an infra sauna, a bathtub with massage facilities and light therapy and a dining table.

The air conditioner and the WI-FI Internet access are available in the whole building.

Barack Thermal Hotel is a charming place, in summer its restaurant offers a cozy terrace with a spectacular fireplace.
The half board accommodation emphasises on fresh dishes made from local ingredients.
The Lobby Bar awaits its guests with a large variety of drinks, different coffee specialities and colorful cocktails.

In Tiszaparti Thermal Bath of Tiszakécske the medicinal water arises from a depth of 1344 meters. The medicinal water contains a hight procentage of fluoride and sodium hydrogen carbonate and has a temperature of 52 degrees. The water is used for healing different movement disorders and gynecological diseases.
The thermal bath has 2 thermal pools with a depth of 0.9 m and a temperature of 34-36 and 36-38 degrees.
Beside the two medicinal pools Tisza-parti Thermal Bath is at your disposal with further pools for relaxing and having a good time: open fun pool, open pool with slides, indoor swimming pool and baby's pool.
In the wellness section different types of saunas are available: infra sauna, Finnish sauna, aroma cabine, Stollen sauna, steam cabine, tepidarium and salt cabine.
100 meters far from Barack Thermal Hotel Tiszakécske a free outdoor parking place can be found.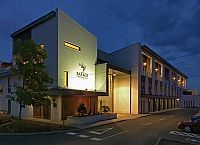 ✔️ Őszi hétköznapi wellness akció Tiszakécskén (min. 2 night)

2023.09.01 - 2023.11.30
Őszi hétköznapi wellness akció a Barack Hotelben (min. 2 éj) 28.400 Ft / fő / éj ártól / félpanziós ellátás / fürdőkomplexum használata / strandtörölköző / szaunavilág / ingyenes Wifi / ingyenes parkolás /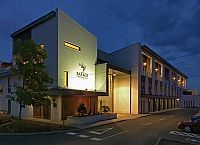 ✔️ Őszi hétvégi wellness akció a Barack Hotelben (min. 2 night)

2023.09.01 - 2023.11.30
Őszi hétvégi wellness akció a Barack Hotelben (min. 2 éj) 30.900 Ft / fő / éj ártól / félpanziós ellátás / fürdőkomplexum használata / strandtörölköző / szaunavilág / ingyenes Wifi / ingyenes parkolás /